Harvest season for hay and straw is around the corner! We prepared a checklist to ensure your equipment, fields, and barns are ready when the season begins. Since perfect baling conditions can be infrequent and far between, especially in the constantly changing late spring weather, we recommend starting preparing at least a month before the optimum conditions for first cuttings, which is at least around mid-April. However, we suggest making a list of all necessary items and checking whether you will need any new equipment, parts, or supplies earlier to avoid the pre-season rush that sometimes results in items being out of stock. Here are six steps you should consider when preparing for a successful harvest season.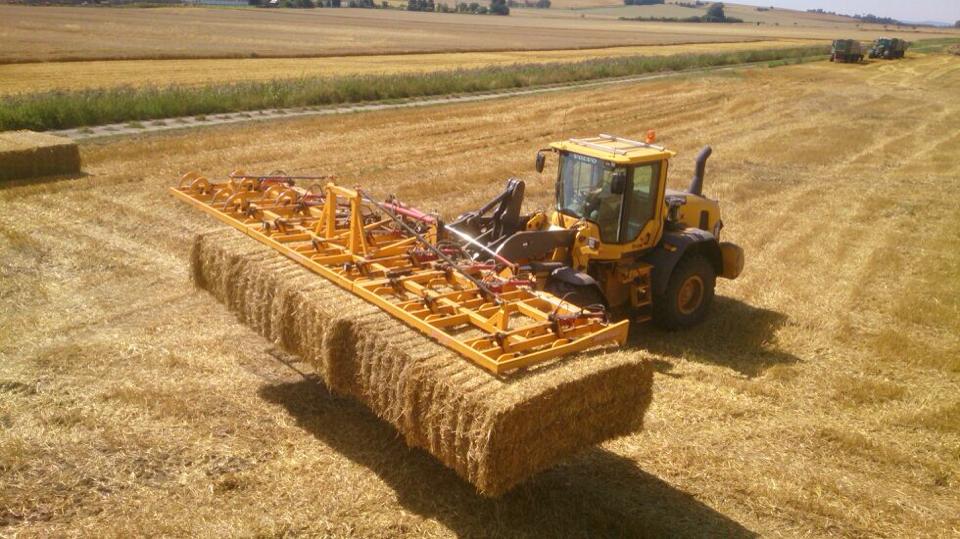 Perform tractor and machinery maintenance
If you haven't conducted spring maintenance on your machines and tractors, make sure you do so before harvest season begins. Follow the maintenance guidelines in the manuals and, check fluids, filters, spark plugs and change if needed. Repeat the procedure with your tedders, rakes, balers, and wagons, oil them if necessary, replace broken tines and other equipment. Also, check the tire pressure in all your machines and, if necessary, add air. Replace worn-out tires to avoid dangerous and time-consuming blowouts during the operation.
Test your machinery
Once you have executed general maintenance tasks, fire up your tractor and test your machinery to ensure everything is in working order. Give rakes and tedders a test drive; if needed, test the baler by cutting open a couple of old hay bales to give it a quick review. Although it might seem unnecessary, it is better to make sure everything works well in advance. You don't want to find out that a critical machine is not working on a baling day.
Gather additional tools 
Additional tools involve all tools and items you will need to ensure harvest season progresses smoothly, even if they're not necessarily critical. For example, straw moisture and temperature testers or rakes and brooms for dealing with loose hay and straw. Gathering additional tools might also involve stocking your tractor toolbox with hammers, pliers, a ratchet and a socket set if you have to make repairs in the field.
Tip: think through the whole harvesting process and cover all the bases
Stock up on essential supplies
Besides tools and machinery, ensure you have a large stock of essential supplies and spare parts before hay and straw season begins. First, get enough fuel because even oiled up machines won't work if you don't have enough. Baling twine is also necessary; if you know how much hay you expect to bale, you can calculate how many metres of baler twine you'll need. Also, shear pins compatible with your machines are crucial; you can usually count on one or two to give out over a season. Besides that, stock up on spare tines for tedders, rakes, and balers. Lastly, don't forget personal supplies like gloves to protect your hands from blisters and face masks to protect your lungs from the dust.
Prepare your harvest storage location
Make sure you have a place to store your hay, straw and silage bales. It is pretty straightforward if you're storing round bales outdoors, but if you're keeping it in a building, empty and clean a large enough space to handle the incoming crop. Chances are you have a dedicated place where you store bales each year. If last year's crop is still taking up space, find a new location and sweep out any loose material left behind.
Consider investing in bale handling machinery
Investing in high quality and reliable baling equipment will help you harvest faster and use the machines longer. Meijer Holland has a wide selection of bale handling machines that could make the harvesting season more manageable and efficient.
Meijer Holland has a great collection of big bale grabs. Grabs for big bales include the Fred bale grab, which is perfect for stacking and moving big bales of straw and hay and is available in six different versions. Rambo bale grab collects big straw or hay bales one by one and can load them as a pack. Different versions are available, ranging from the Rambo 2 to the Rambo 7k. Combining the Fred and Rambo is the best solution; Loading the bales on the field with the Rambo, unloading and putting the bales in storage with the Fred. Also, Meijer Holland has big bale collectors to gather large straw or hay bales behind your press. There are two collectors in this range: Flintstone and Windrow HVM. Flintstone is a suitable machine to optimise collecting big bales on the field. Connected with a platform behind your press, the Flintstone will stack two bales on the field. Windrow HVM is attached at the back of the press to put your bales of separate rows in 1 line, making it more efficient to collect them driving crosswise and reducing tracks in the field.
All small bale grabs are made for picking up bales longitudinal on the field, on a truck, or from a stack. There are four versions of a small grab; Meijer KM bale grab to pick up 8,12,15, and 16 small bales. Also, four versions of a Limo bale collector for small bales are available. The Limo prepares perfect bale packages for the KM to pick up and load onto a truck. The KM bale grabs and Limo bale collectors can work as individual machines but have the highest efficiency when combined. All equipment is reliable and can easily maintain the capacity of the baler. 
Meijer Holland also offers bale grabs for wrapped bales. The Jumbo VR bale grabs are grabbing from the side; they are robust and are designed for use by contracting companies. The Jumbo CKM bale grabs are designed for transporting round or rectangular wrapped bales. It is grabbing from the top and can also be used to handle solid hay or straw bales. Jumbo KK is suitable for farmers handing square and round bales at their farmyard. The Jumbo AA is perfect for putting small wrapped bales on a pallet in a firm pattern that can be easily transported.
Meijer Holland also has other products such as control equipment, brackets and spare parts.
Find out what Meijer Holland customers think about our products by reading testimonials. 
Fill in a quotation request or contact us if you have any questions regarding our products.